Like most smart devices, lighting makes your life safer and more accessible. Keeping your home looking lived in, even when you're on vacation, adds a level of security to your home. Controlling your lighting via the app or by voice command is incredibly convenient.
However, smart lighting can be used for more than just valuable tasks and automation.
Today we look at how you can harness the power of mood lights to create different zones in your home depending on how you use the space.
But first, what exactly is mood lighting?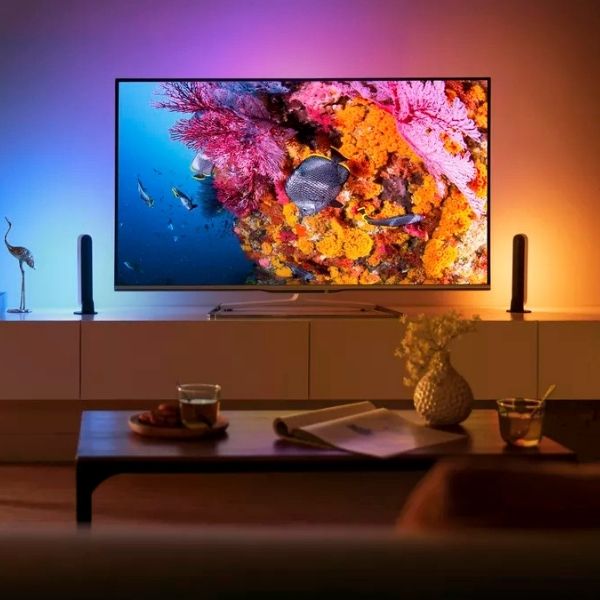 Mood lighting is the result of creating specific micro atmospheres in a space. Often in soft lighting, this kind of lighting acts as an effective counterpart to existing task lighting.
The purpose of mood-changing lighting is to soften and soften the décor while creating a level of light that is appropriate for the task at hand. How can you start introducing mood lighting throughout your home today?
Here are some key rooms in your home that could benefit from mood changing lighting:
Bathroom
Bedroom
Dining room
Kitchen
Living area
Outdoor area
1. Mood Lightings For Bathroom
There are many things you would love to have when it comes to bathrooms, and mood lights are one of them. The lights of the bathroom can cheer up your mood and help you in starting your day energetically. This way, you can adjust the brightness and change the color scheme depending on whether you want to get ready for the day or relax after a hard day at the office.
Here are some exciting bathroom lighting ideas that you can consider for your bathroom:
Use brightness controlling waterproof spotlight in the shower area
Battery-operated and waterproof LED lights can be stuck to the wall or bathtub rim or float around in the bathtub
Play with the pattern by using multi-colored lights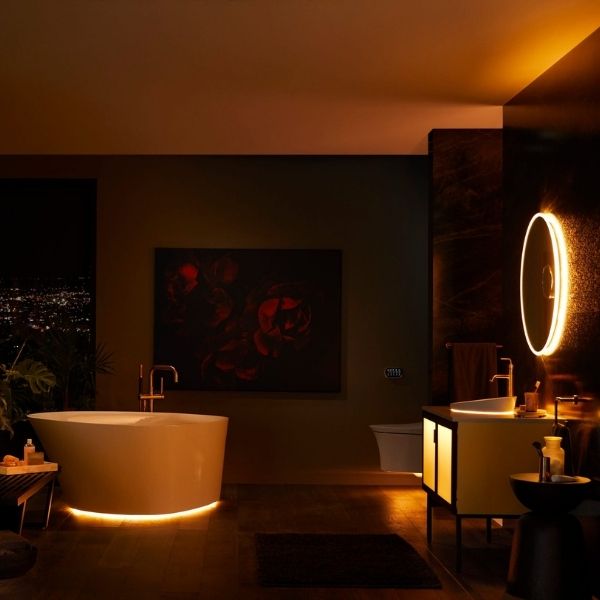 2. Mood Lighting For Bedroom
Light affects everyone physiologically as well as psychologically. We may take it for granted sometimes, but it is all around us. In stores, at work, in restaurants, and every time we flip on the light switch in our own homes, we are bathed in a light that can change our mood. This is the reason why having mood lights in the bedroom is essential. You can change to complete the room's aura with them by just turning these lights on.
Here are some outstanding ideas to use lightings in your bedroom:
Use 3-in-1 LED lights to change room lighting color and brightness without mounting different lights
Strip lights at the back of the pictures or TVs
Use light colors to boost your productivity and wake up, classic feel-good lighting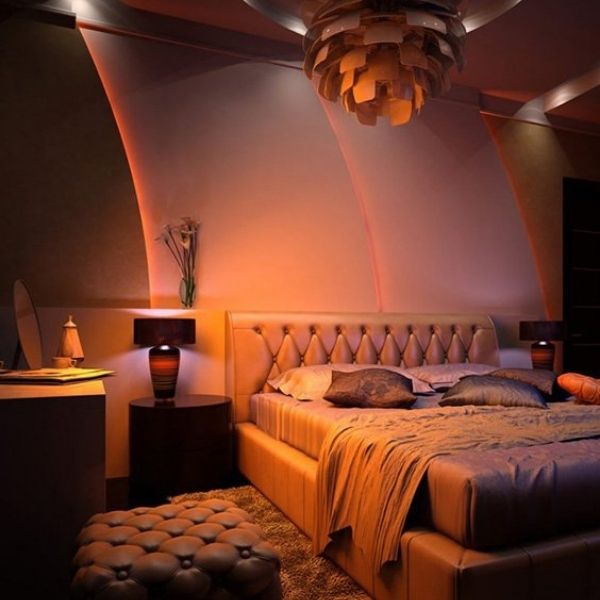 3. Mood Lights For Dining Room
You can turn your dining room into a personal restaurant by just setting up the lights as per your necessity. One such way is the use of colourful pendant lights above the dining table is also one of the most trending methods to build the ambience while having nice delicious delicacies with your family.
If you are a couple, then these lights will surely help to build up your relationship, and also you can plan date nights at your place. Also, mood lights are the best for house parties to set an impression on the guests. Let's have a look at the gorgeous lighting ideas for the dining area:
Use a colourful lamp chandelier above the dining table to accentuate the elegance of the dining room
On a circular dining table, mount the colour changing ceiling lights in the circular form above the table for a cosy ambience
Choose anti-glare LED lights and fixtures to highlight your efforts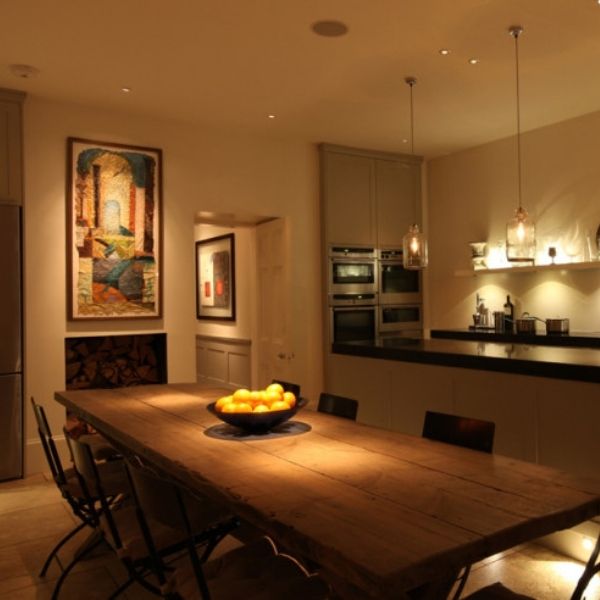 4. Mood Lights For Kitchen
As believed by everyone, cooking is a type of meditation, and this is why kitchen lights are equally important for those who usually work there. Lights above the cooktop, under the cabinets, and other essential corners of the kitchen may cherish the cook's mood. And if these lights are mood lights, then it will be the cherry on the cake.
With mood lights, the cook can turn on soothing lights and calmly enjoy the entire cooking process. Go through these kitchen lighting ideas for mood lights:
Get some LED downlights to add a personal touch to your kitchen lighting
Under-cabinet lighting is an effective way to add variety to your kitchen
Mount hanging lights above the kitchen island to improve the visibility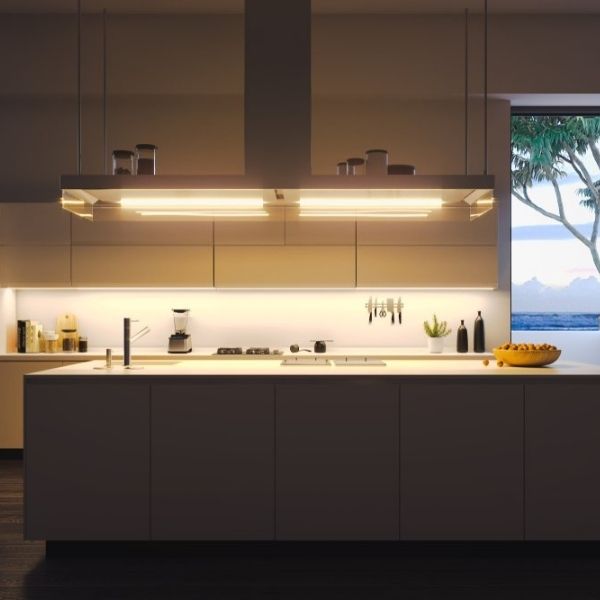 5. Mood Lighting In The Living Area
For a more comfortable and relaxing environment, keep the white lighting down to a minimum. For a more homely touch, use a small amount of yellow lighting.
If you like to host parties with many people, you can use RGB strip lighting. These lights can match various colors and create an immediate party atmosphere. Along with that, some fun lighting ideas for changing the living room's mood are here:
Use music strip lights to create an intimate party atmosphere with their lights dancing along with the music
Use different types of lights in combination to change the brightness and colors of the room as per requirement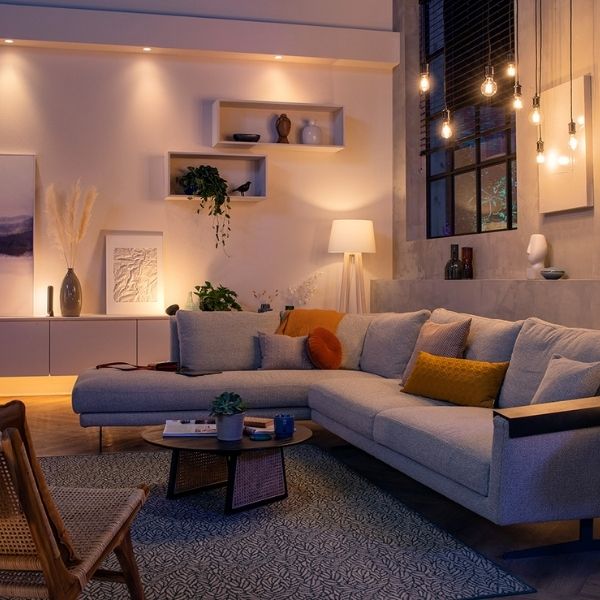 6. Mood Lights For Outdoor Area
Add a magical look to your garden pond or pool with a floating globe. Controlled by remote, the gorgeous flare changes color or cycles through a sequence of colors to mesmerize and set the mood. If one globe is not enough, you can make an impressive statement with several bulbs that slowly float around your water feature. Here are some outdoor lighting ideas for setting up your mood:
Outdoor wall lights enhance the visibility in the outdoors and are perfect for romantic walks
If you want to make all the pathways romantic and colorful, you prefer rope lights along the edges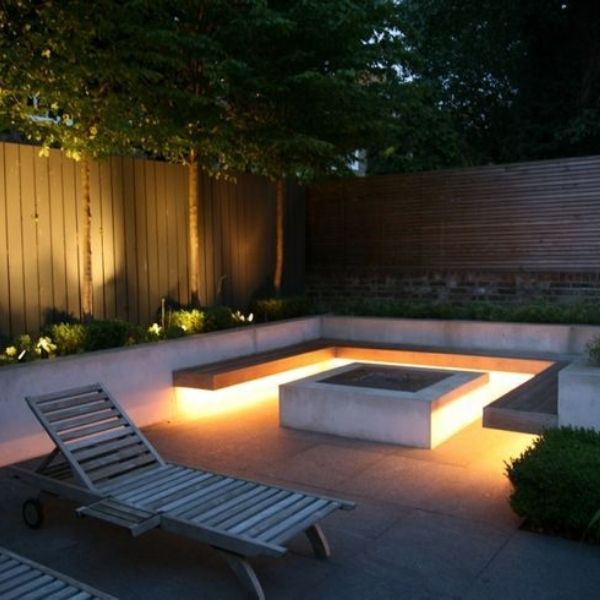 We hope you've seen several ways to brighten up your lighting and make your home cozier than ever. Atmospheric lighting doesn't have to cost a fortune. You can start with the minimum initial investment and then get creative and build a more sophisticated ecosystem over time
Allow the notifications of our website to get the latest & astonishing lighting ideas, guides, & tips. Don't forget to sign up for our email newsletter, too.