Even in a small kitchen, you need multiple LED lights to make the place function and safe. A good lighting plan starts at the top with essential lighting – your ceiling fixtures, such as overhead lights or track lighting, chandeliers and pendants. You can also place task lights under the cabinet as a strip light to almost all the area.
Along with that, you will get the attention of your guests with your style. Don't worry; you can do this without being too fancy or adding too many kitchen lights. All you need is our kitchen lighting ideas to light your kitchen perfectly.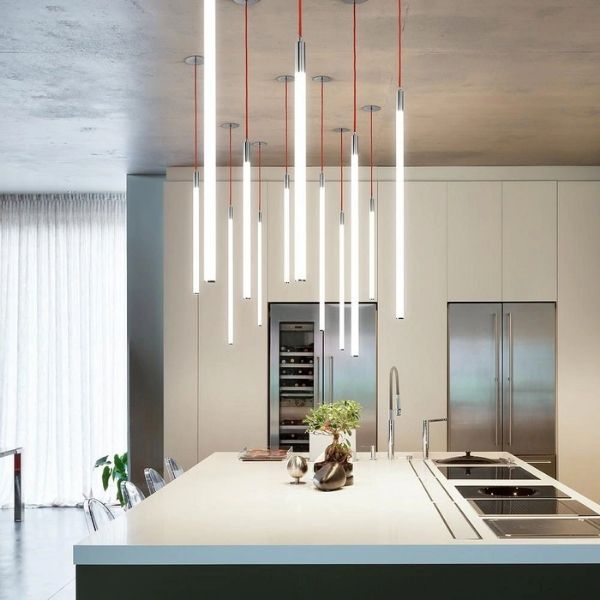 The first task in creating a lighting plan for the kitchen is to honestly assess the activities that will take place in the space – from cooking to entertaining to office activities. The three main types of lighting are:
General lighting, which provides ambient lighting for the room
Task lighting, which highlights a specific work area
Accent lighting, which can provide a focal point in the room
The location of counters in the room's general layout is essential for the placement of lighting fixtures. When planning lighting for cooking, it is important to have sufficient light and good light distribution for general lighting. Multiple light sources are best so that light comes in from different directions.
Here Are Some Of The Most Trending Kitchen Lighting Ideas Of 2021
There are two purposes to be considered in kitchen lighting. Ideally, it should illuminate the work surfaces where you do most of your prep work, and it should provide a welcoming atmosphere during dinner or evening hours.
Pendant lights fulfill a unique role in the kitchen, in addition to the two previously mentioned requirements – kitchen pendants are the preferred choice for decorators who want to make a creative statement in an otherwise utilitarian space by filling the void between countertop and ceiling with hanging artwork. If you're looking for inspiration for your kitchen you can also contact a lighting consultant.
General lighting is an absolute must. These are lights that evenly illuminate the entire kitchen, large or small. This is what the classic tube light used to do, but today's options are much more sophisticated.
How To Use Them In Best Possible Ways?
General kitchen lights work best when they are recessed into the ceiling, such as concealed lights or panel lights and there is no obstructing object – such as a fan, pendant lights or a shelf – within their radius.
If there is no false ceiling, use wall sconces to distribute the light throughout the room evenly. With kitchen lighting like this, you can either use two lights at opposite ends of one central light (depending on the size of the room).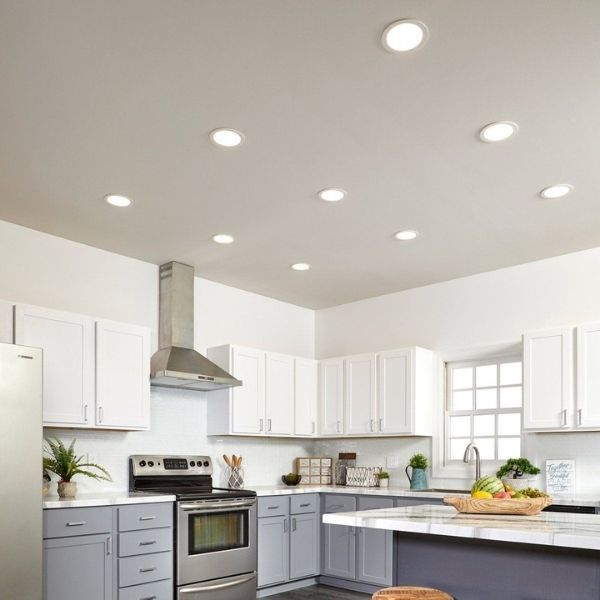 If your family spends a lot of time in the kitchen and you have to prepare every meal there, it can be not easy to access other rooms of the house that you use for other purposes. The good idea is to plan zones and lighting levels in the room depending on what you plan to do: reading, homework, cooking, or socializing.
In the kitchen, many activities are going on in the room at any given time: from homework to cooking. To ensure that a single space can provide all of these facilities, it's best to divide the lighting into zones and layers.
How To Use Them In Best Possible Ways?
Mount a zone light at a mainly used space of the kitchen so that everyone can get enough light
You may also consider different types of light for each zone
LED downlights, usually placed in the ceiling, eliminates shadows and gives you a good view of your work surface. As the name suggests, it ensures that you have enough light when cutting vegetables or doing other prep work like washing dishes etc. This lighting in the kitchen also helps you see the quality of fresh produce, read labels on jars, and so on.
How To Use Them In Best Possible Ways?
Mount it above the kitchen shelf so that you will get the appropriate light during cooking
The number of lights depends on the length of the counter. If you're on a tight budget or have limited light points, it's a good idea to light only the main prep area – ideally near the stove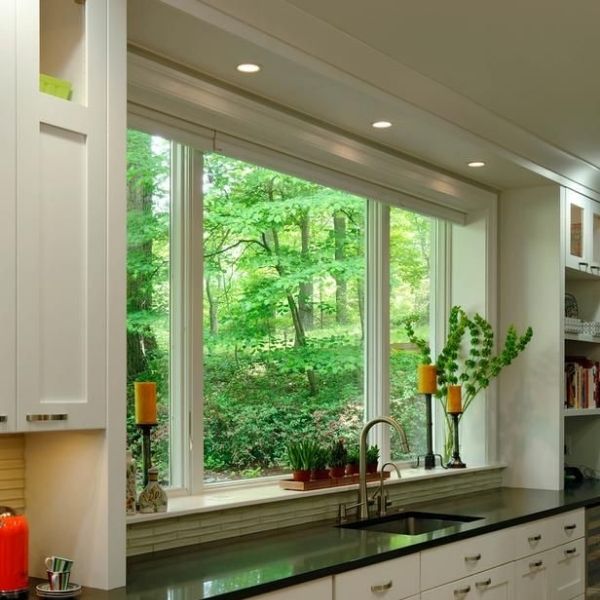 Decorative hanging spotlights are perfect for the breakfast counters or dining tables. They give the room an inviting look. Don't dismiss them as frivolous. They also work as task lights and add a warm design element to an otherwise highly functional space.
How To Use Them In Best Possible Ways?
Place decorative lights, such as chandeliers or pendants, above kitchen island counters used for food preparation
These work best in sets, depending on the length of the countertop, you can put several kitchen pendant lights in a row above your dining table
Pendant lights should be positioned about 30-34 inches above the counter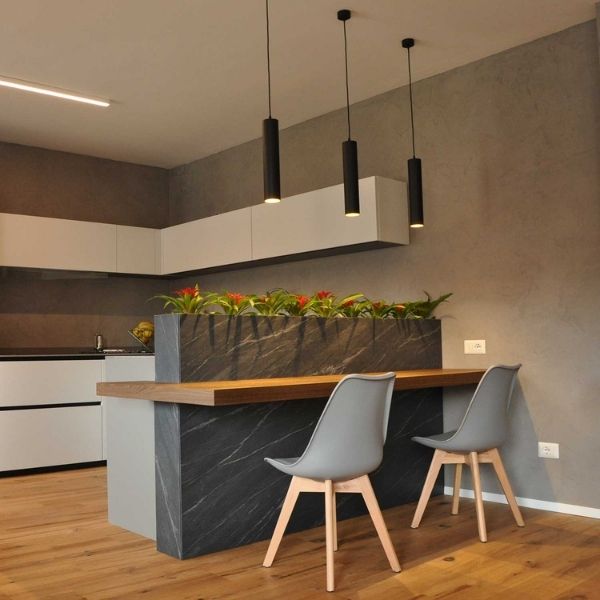 Closet lights help you keep otherwise dark storage spaces well organized. Often, these lights turn on automatically when you open the shutter and turn off when you close the kitchen cabinet. These are perfect for high-end kitchens. However, you can also install them just for corner or base cabinets if your budget allows.
How To Use Them In Best Possible Ways?
Determine if cabinet lighting is needed early in the kitchen construction or renovation process. This is because cabinet lighting requires internal wiring in the cabinet.
Automated lights are your best option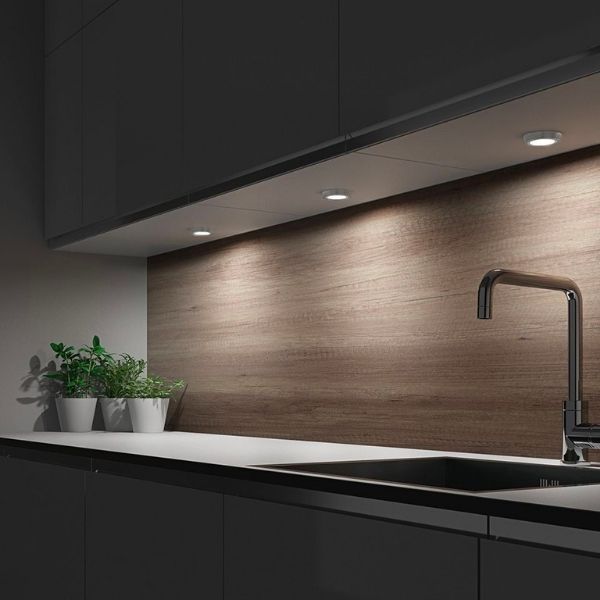 Explore Kitchen Lighting Solutions with Light
All our products come with a 2-year warranty, and our dedicated customer care team will attend to all your queries on a priority basis.
Shop LED lights with Light and light up every corner of your home.
Explore different kitchen lighting ideas with Light's diverse selection of LEDs. Fable, one of the leading LED lighting manufacturers in Delhi, offers wall spotlights, footlights, garden lights, floodlights, and many more outdoor lighting products.