Reading before bed has many benefits, like a peaceful mindset, reduced screen use and more. Some experts even suggest that reading before sleeping helps one to wake up on time/early in the morning.
A prime factor for reading in the bedroom is the lighting system of the bedroom. If you are reading before sleeping, in your bed, you need to have a good lighting system. A healthy lighting system is one that provides ample brightness so that your eyes do not get strained. It is necessary to take care of your eyes, as they are our windows to the world. Therefore, it is quite crucial to opt for the right reading lights for your bedroom.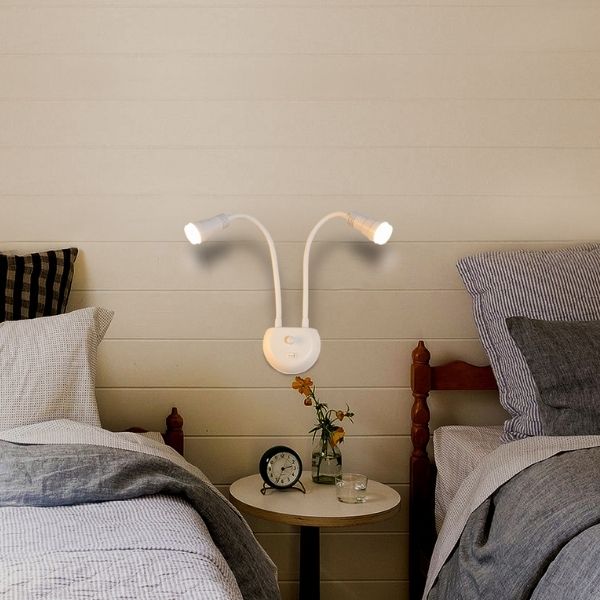 The most apt selection for the reading lighting system is the bedside reading lights wall mounted. These wall mounted reading lights for bed are not only energy efficient but are also cost-effective. These lights provide the adequate amount of light needed for a smooth reading session, without stressing the eyes. The lights create an ambience of reading, with the right combination of luminous intensity.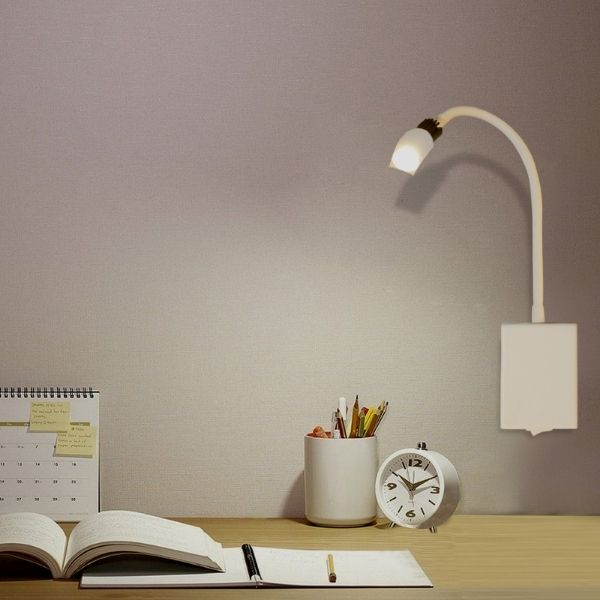 Features Of Wall Mounted Bedside Reading Lights
These modern wall mounted bedside reading lights have many features. Their features make them a perfect choice for bedroom lighting, not only from the purpose of effortless reading, but also for complimenting the entire experience of reading.
The core features are, as noted in the remarkable reading lights presented by Light:
Flexibility helps the reader to adjust the light whenever needed. If you change a lot of positions, and end up in a space where you feel the light is not enough – then, you need not change your position, you can simply rearrange the arms of these flexible reading lights. This way you can adjust the angles of light, and enjoy your reading.
Extravagant reading lights have a tendency to draw a lot of attention. When you are reading, you want to focus on the characters and the words of the book. Minimalist fixtures and classy designs will simply add elegance to your room, while providing ample brightness in the background.
Since these lights are used on the walls, plenty of space is saved on the sides of the bed. This space can be used aesthetically to place an artwork or can be used as a mini-storage zone.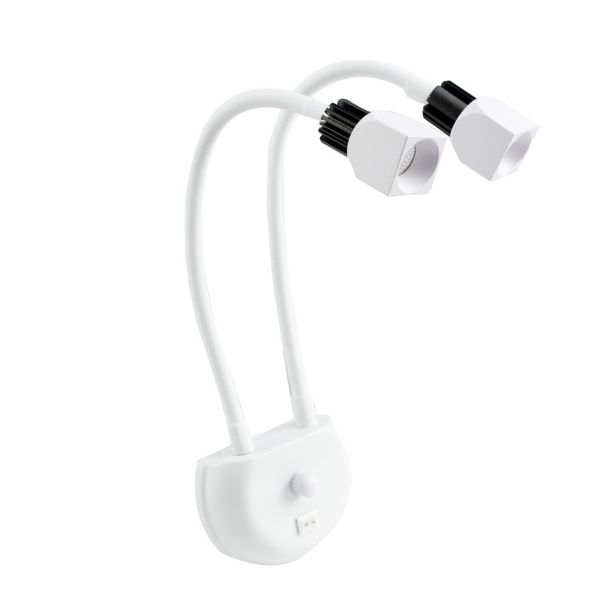 Why To Choose Wall Mounted Reading Lights?
There are many different reading lights available in the market, from reading lamps to wall sconces. The most functional option amongst these are the wall mounted lights for reading. There are many reasons behind this, the primary being the efficiency of wall-mounted lights in providing light in the right direction and area. Wall mounted lights can be set as per the bed-positioning angle of the individual, and thus the light beam falls in the right place.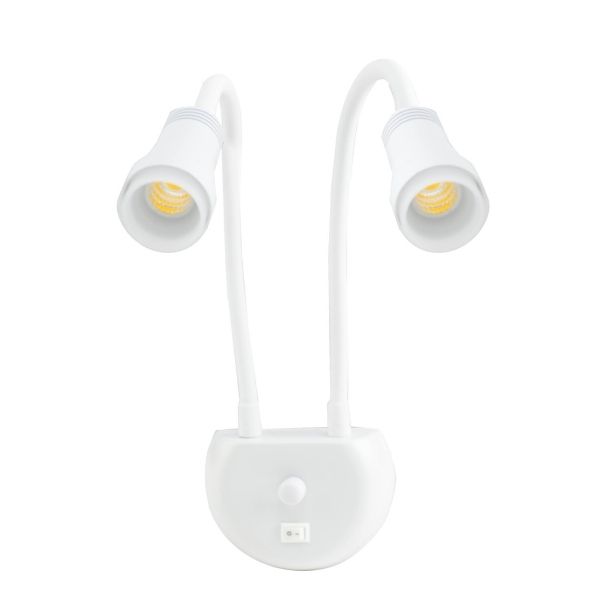 Another advantage of these LED wall mounted bedside reading lights is that they are easy to use. In case you want to know about more benefits of LED lights you can read our previous blog.
Unlike lamps, they do not have to be adjusted with every changed position. They are a blend of accent and ambient lighting, and perfectly light up the reading zone. This will make your reading time a hassle-free experience and you will derive more pleasure out of it.
Bedside reading lights wall mounted are an important component of the aesthetic theme of the room as well. These lights, mostly used in pairs, act as decorative wall sconces as well. Thus, they play multiple roles in the bedroom setting and lighting frame.. Many interior designers and creative professionals use decorative wall mounted lights in space of frames or art-work
This gives them dual advantage of functionally and style. There are many different style themes that can be followed – classic style, modernised look, rustic vibe, minimalist perspective and more. Mostly, people go for medium-sized wall sconces that smoothly fit into the room, you can choose a large wall light if you want to create a bold statement.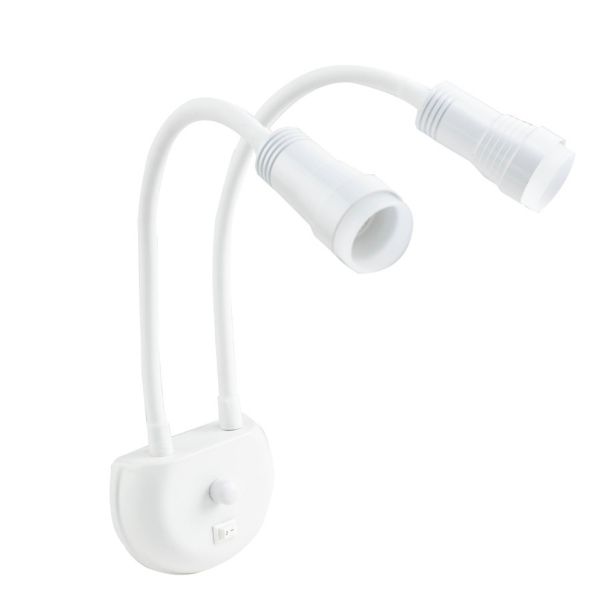 Where Should Bedside Wall Lights Be Placed?
An important step is the placing of your reading light, so we have to consider a few factors while positioning them. Here are some of them:
Reading Angle
Bedside Width & Height
Potential Light Beam Angles
Proximity To Any Art Work, Frames, etc
Proximity To Other Lights
The foremost step is to have a rough estimation of the height of the different elements of your bed, like the bed height, the height of pillows, and your height. This information will help you decide the right height and angle for placing the wall mounted bedside reading lights. It is important to note all these numbers accurately, in order to avoid any lighting issues later.
What Type Of Light Is Best For Reading?
LED lights are the most preferred choice for reading. Many LED light fixtures offer to spotlight. Spotlighting is great for reading as it provides the needed luminesce for the eyes. So, COB bedside reading lights with natural white light are the best for reading as they maintain your focus, unlike warm lighting that relaxes your eyes and makes you dizzy.
If the lights are flexible, then the angles can be adjusted as per your movement. The light beam adjusts accordingly and light never leaves the pages of your lovely book. This ensures a smooth and healthy reading experience for you.
Like other LED lights company in India, Light has readling lights at your disposal – COB Bedside Reading Lights!
Light's reading lamps are quite energy efficient and cost-effective. Even if you are an avid reader, who is going to read all night, it will accompany you. They will not burn a hole in your pocket, and will not disperse any harmful radiations or heat.
The feature of Light's wall mounted reading lights are –
Available in 5 Watts & 10 Watts
Available in square & round design
360 degree rotatable
User friendly
Minimalist design
2 years of replacement warranty
These features combine to make them the best wall-mounted reading lights. Your fiction/non-fiction books are waiting to be completed, buy these wall-mounted reading lights now!
Here in this infographic, we have summed up the whole article, please feel free to use this infographic for any commercial or non-commercial capacity. If you use the infographics, we require a reference back to Light