:About the Book: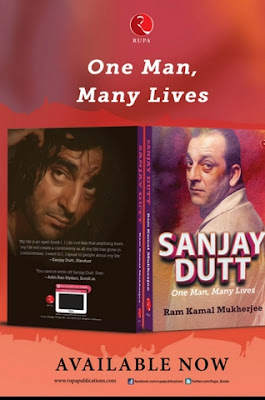 What the world knows about Sanjay duty is only half-truths. best-selling author, film producer and renowned journalist Ram Kamal Mukherjee unravels the enigma and stigma surrounding Sanju Baba. There can be no last word on Sanjay Dutt. Ever. Even as he walks a free man after more than three decades of prison terms and controversies, Dutt remains a classic case study in all that defines the 'star' system in Hollywood industry known for its deep-rooted sense of entitlement. However, there is one question that dominates: who is the real Sanjay duty?
Is he a man who has been 'wronged by the media', as his friend and filmmaker Rajkumar Hirani wants everyone to believe? Is he a son who could never recover from his mother's death? Is he a son whose father political leanings made him an easy target? Or is he a myth, created by a consortium of film journalists, industry insiders, political fiends and adversaries? Delving deep into both the man and his circumstances, Sanjay Dutt: one man, many lives tells the Uncut, untold and uncensored story of Sanjay balraj duty. What emerges is an accountant much about one man's laudable efforts to keep reinventing himself, as it is about his privileges. Privileges that were seldom earned and always taken for granted. This is the closest anyone can ever come to understanding Sanju Baba.
Who is Sanjay Dutt? is a question that often comes to my mind. And now, after reading both the books written on him so far (Including having watched his biopic Sanju) I still have a lot of unanswered questions.
The first and foremost question is- Why does he need so many books and movies to clarify his stance in life? Agreed he is one of those stars who did not believe in hiring a PR for various reasons. But this recent overdrive is killing the charm and mystery that hung around him. I am a firm believer of the saying,
'Never explain yourself. For the ones who understand do not need it and the ones who don't understand do not care about it!'
However, having said that I do understand that given his choice of profession, this PR is an important aspect which can make or mar careers.
There are many more questions which come to my mind regarding the contradictory reports that have created a confusing picture of a few incidents from his life. Given the fact that these are not written by Sanjay Dutt himself, but are pieced together to form a narrative there is no scope for any further discussions on this. So I would keep aside my personal opinions and analyse the book subjectively.
Starting with the book, I would like to add here that no book can do justice to few decades of life and that too of someone as adventurous as Sanjay Dutt. There are certain turning points which have been discussed at length in both the books and some unique perspectives shared in this one which the previous one did not have.
Having gone through a troubled childhood, the rebel in him was born after he was sent to the boarding school. This is one feeling I relate to largely, having experienced it myself. Though, this is no way justifies his decisions much later in life. This according to me is one stand that could have changed a lot of things. Parents seldom realize the impact of their actions and words on their child's psyche. And it is this lack of understanding that is responsible for so many damaged adults who are clueless about life to such a large extent. Perhaps that isolated incident cannot be blamed for his entire graph of mistakes but it can surely be a trendsetter in terms of creating a rift between him and his parents, especially his father – legendary actor late Shri Sunil Dutt.
Coming from drastically different backgrounds, his parents were chalk and cheese who wanted to give a normal world to their children. Somewhere in their aspiration for perfection, they failed in understanding the needs of their children. Though this cannot be held true for Nargis Dutt largely, but for Sunil Dutt as a father it surely does. Across the books, the movie and even in his interviews in the past, actor Sanjay Dutt has spoken about how his father was responsible for a lot of things he did in his life. It was much later that Sanjay Dutt was able to see him as an individual, beyond being his father and strive to create a rapport with him of mutual respect and love, something we all struggle with while growing up.
Unfortunately, instead of learning from his mistakes, Sanjay ended up doing worse than him both as a father and husband when it came to his first wife Richa Sharma and daughter Trishala. It reflects clearly that he wasn't ready for these responsibilities and he did not understand the grave consequences of his decisions. He was busy living life on the edge for the longest till life reached an end point, a point from where he had no choice but the turn back and start afresh.
Surprisingly the more I read about him, the more I see him merely as a flawed individual with a not-so easy past who is struggling hard to break away from those tags and image. The star that he is seems to vanish behind the words I read about his life. Just like many of us, he made mistakes and paid a heavy price for it.  It feels good to see him make the most of the second chance life  has offered him, for everyone deserves a second chance.
What I admire the most about him, and this was way before reading about his life in books, is his ability to fight back.  His firm determination to never give up and his strength to keep standing up again after every fall is what makes his story, truly inspiring. Reading his story reminded me of these famous words:
"Khudi ko kar buland itna ke har taqder se pehle, Khuda bande se khud pooche bata teri raza kya hai." – Allama Iqbal
:About the Author:
Ram Kamal Mukherjee, India's first Power Brand film journalist, is a columnist, producer and director. Winner of many coveted titles, Ram Kamal is one of the most popular personalities and influencers in the Indian film fraternity. He has worked as Editor-in-Chief of Stardust, India's leading film magazine. A film journalist for twenty years, he was also associated with The Times of India, The Asian Age, Mid-day and Anandabazar Patrika. As Vice President of Pritish Nandy Communications, he has worked on twelve feature films. His biography of Hema Malini, Beyond the Dream Girl (2017), won him five prestigious Best Author awards. Ram Kamal has written a coffee table book, Diva Unveiled (2005); a work of fiction, Long Island Iced Tea (2016); and a collection of Hindi poems, Muktakash (2019). Ram Kamal launched his own production house, Assorted Motion Pictures, with his critically acclaimed directorial debut Cakewalk. He has also completed a second short feature film, A Tribute to Rituparno Ghosh: Season's Greetings.
Replete with excepts from various interviews of the stars, his family members, friends and co-stars in addition to photographs this book makes for an extremely engaging read. Interestingly, the book derives on no conclusion. It leaves onto a reader to conclude whether Sanjay Dutt has been a victim or a villain. This take is unique on his story because we have noted in the previous book, followed by the movie where the conclusion though not written in black and white was clearly written on the pages for a reader to conclude.This book has a certain honesty in it, where the author, noted journalist Ram Kamal Mukherjee tries to place the facts before you, putting piece after piece so that you can see the larger picture and derive at your own conclusions. Bringing together his experience of two decades of being a film journalist, the author tries to paint a picture of grit, determination and honesty by sharing the story of one of the most troubled stars in the recent times. A claim, he has mentioned more than often all throughout the book.
The flow of the book is pacy, gripping, exciting and reads nothing less than a taut thriller. Well, Sanjay Dutt's life by his own admission has been nothing less than a roller coaster ride and this book does complete justice to his exciting and unbelievable story. However, at many places I felt, the book could have done with a more tighter editing given that there are a lot of repetitions in it. Not few lines or words but entire passages have been repeated!
Despite it all, I would still recommend this book- for its well-rounded approach to Sanjay Dutt's story without trying to glorify anything. Movie buffs, Bollywood fans and Sanjay Dutt followers – do read this one to know a bit more about Sanju Baba!